Viru, Dhoni tweet about the double-century magic
Virender Sehwag, captaining India in the absence of the rested MS Dhoni, has become only the second batsman in the world to breach the 200-mark in one-day cricket. Here's a look at the twitter wishes for the cricketer.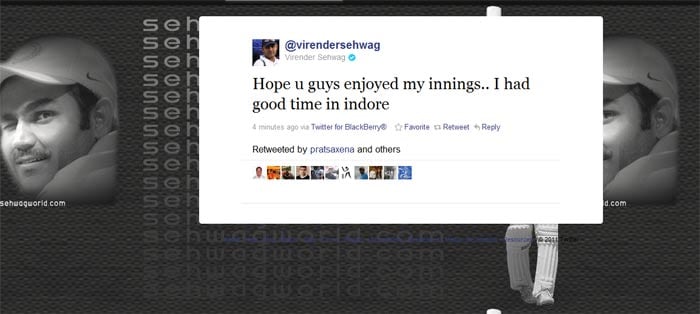 Virender Sehwag tweeted: "Hope u guys enjoyed my innings.. I had good time in Indore."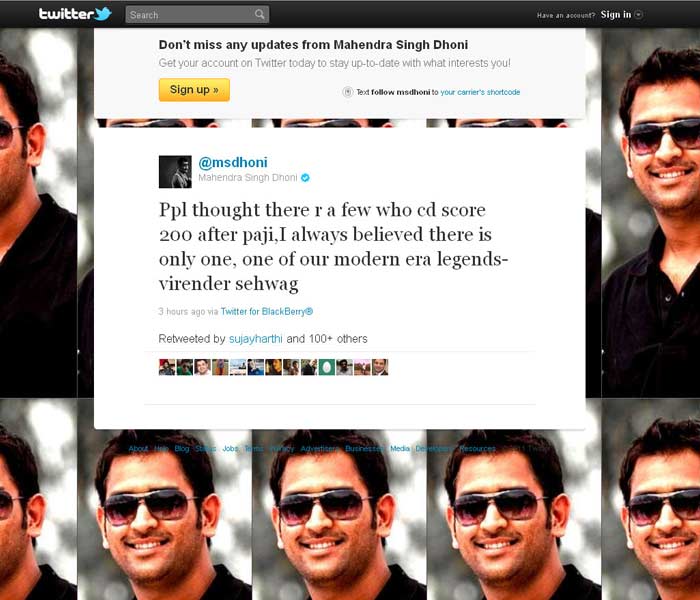 <b>India skipper MS Dhoni, who has been rested for the West Series, tweeted:</b> Ppl thought there r a few who cd score 200 after paji,I always believed there is only one, one of our modern era legends- virender sehwag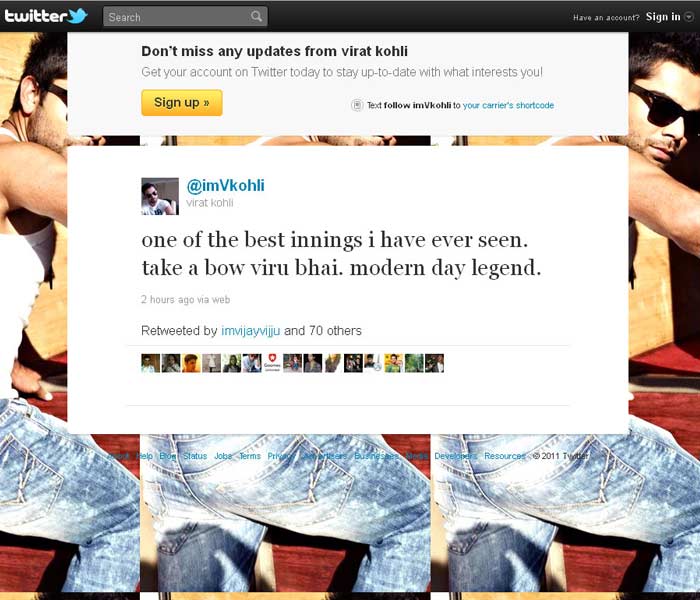 <b>Virat Kohli:</b> one of the best innings i have ever seen. take a bow viru bhai. modern day legend.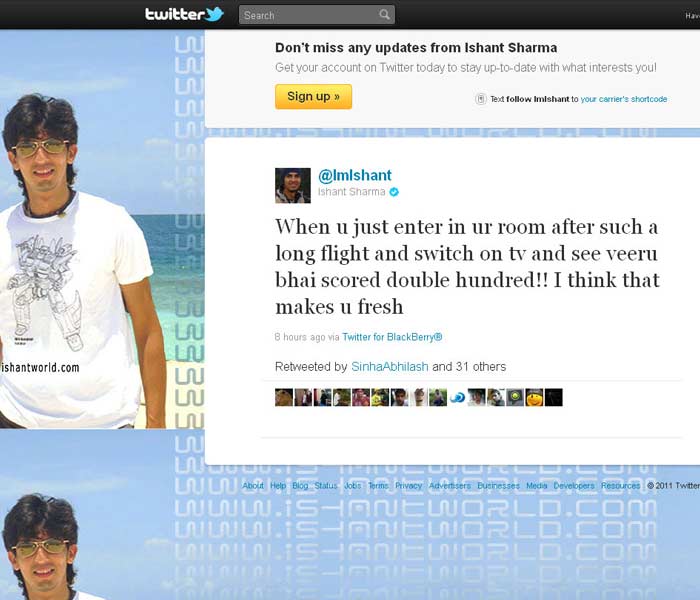 <b>Ishant Sharma:</b> When u just enter in ur room after such a long flight and switch on tv and see veeru bhai scored double hundred!! I think that makes u fresh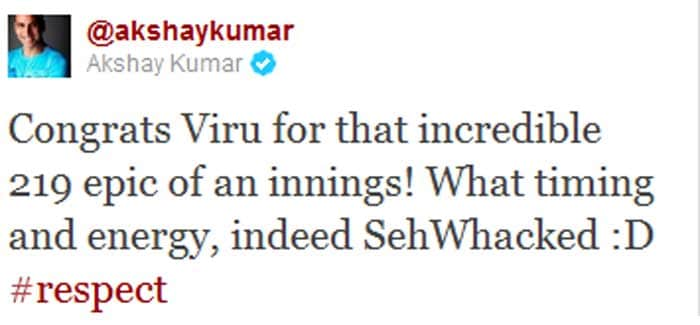 <b>Akshay Kumar</b>: Congrats Viru for that incredible 219 epic of an innings! What timing and energy, indeed SehWhacked :D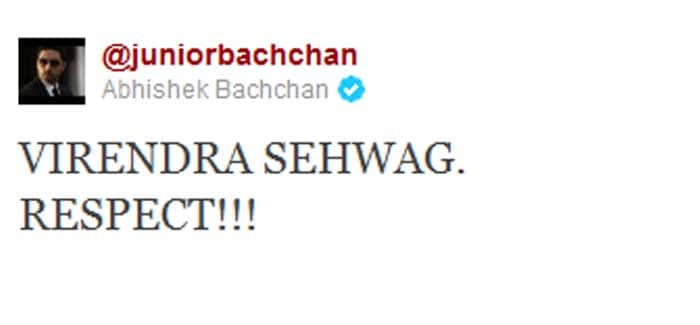 <b>Abhishek Bachchan</b>: VIRENDRA SEHWAG. RESPECT!!!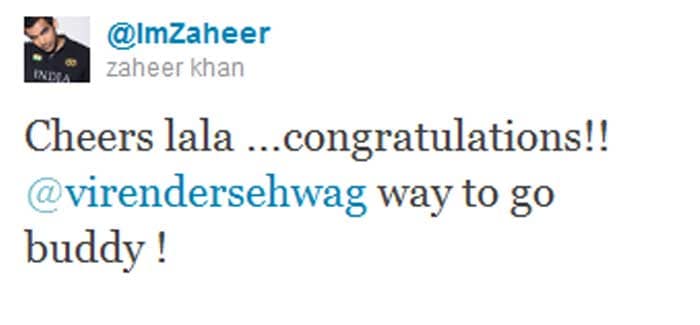 <b>Zaheer Khan</b>: Cheers lala ...congratulations!! @virendersehwag way to go buddy !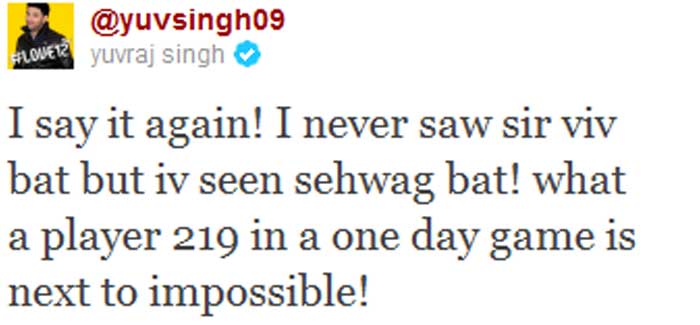 <b>Yuvraj Singh</b>: I say it again! I never saw sir viv bat but iv seen sehwag bat! what a player 219 in a one day game is next to impossible!
<b>Chris Gayle</b>: Well I did watch some of that innings by Viru.... Brilliant striking!! Congrats on ur 219.. That's child abuse! The Mask would say, Smoking!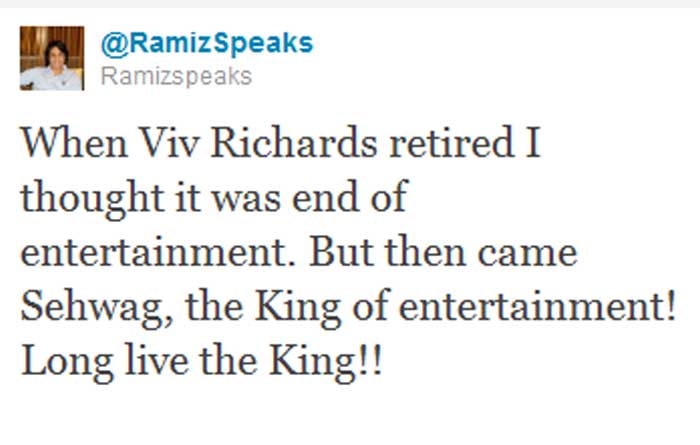 <b>RamizSpeaks</b>: When Viv Richards retired I thought it was end of entertainment. But then came Sehwag, the King of entertainment! Long live the King!!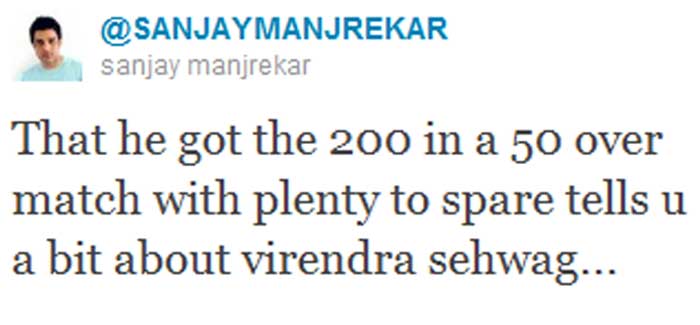 <b>Sanjay Manjrekar</b>: That he got the 200 in a 50 over match with plenty to spare tells u a bit about virendra sehwag...<br><br> The most likely candidate to beat tendulkar's record has done it !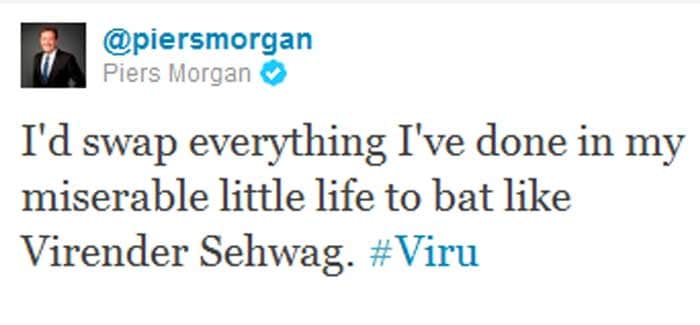 <b>Piers Morgan</b>: I'd swap everything I've done in my miserable little life to bat like Virender Sehwag. #Viru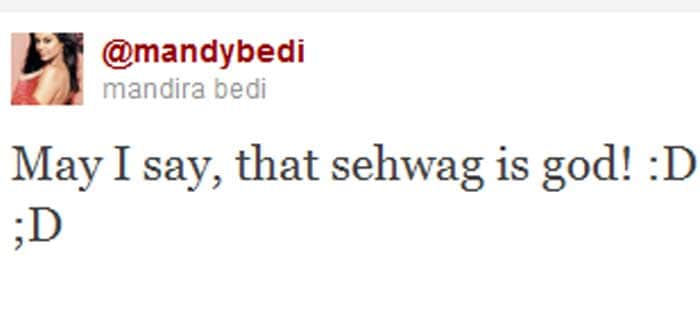 <b>Mandira Bedi</b>: May I say, that sehwag is god! :D ;D<br><br> Bow down to Viru for that incredible 219!! The only 2 double tonners in one day cricket are Indian! #respect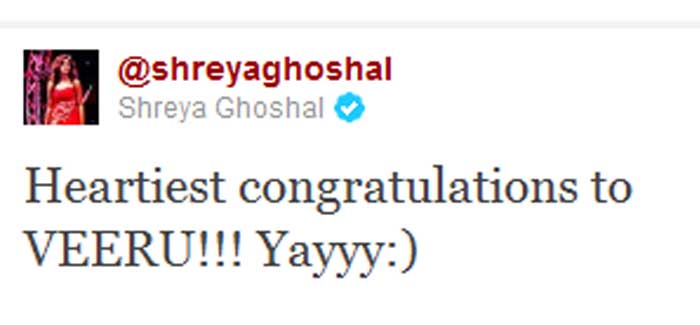 <b>Shreya Ghoshal</b>: Heartiest congratulations to VEERU!!! Yayyy:)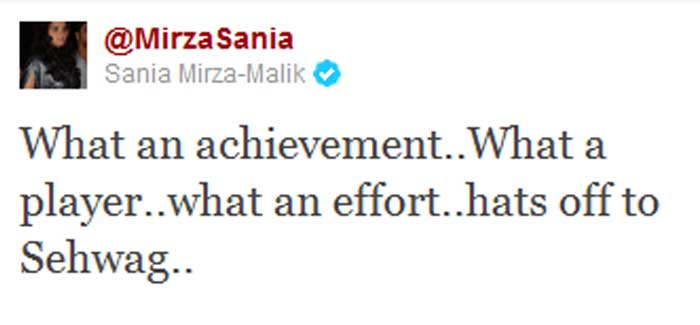 <b>Sania Mirza-Malik</b>: What an achievement..What a player..what an effort..hats off to Sehwag..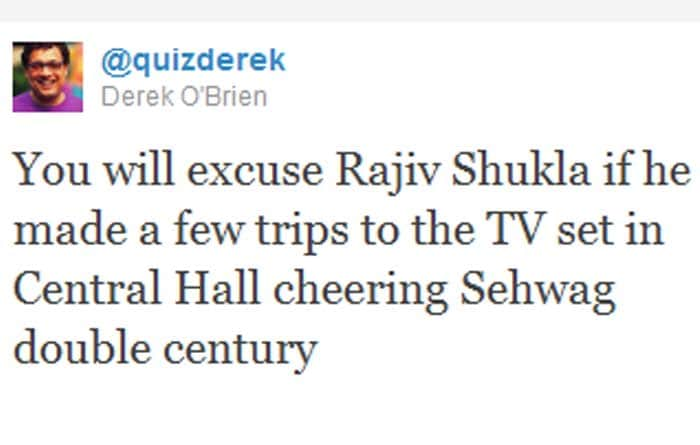 <b>Derek O'Brien</b>: You will excuse Rajiv Shukla if he made a few trips to the TV set in Central Hall cheering Sehwag double century