World Cup: Moments that mattered
CricketNDTV.com takes a look at 5 such moments during the World Cups which created a difference.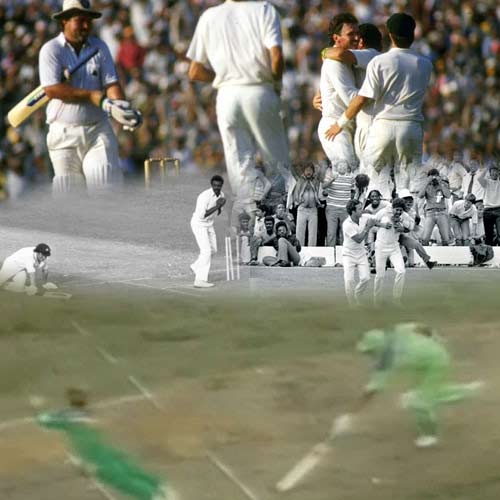 <b>World Cup Moments</b><br><br> Fantastic catches that won matches, run-outs that changed the course of history, brain snaps and lost opportunities. All these moments are an important part of cricket and introduce the 'chance' factor in the game which gives it an interesting colour.<br.<br> CricketNDTV.com takes a look at 5 such moments during the World Cups which created a difference.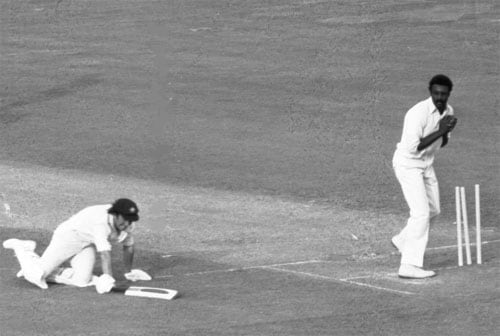 <b>1975 FINAL: Richards runs out three as Australia lose plot</b><br><br> After Clive Lloyd's 102 had guided West Indies to 291. Australia started their chase in commanding fashion with opener Alan Turner and skipper Ian Chappell steering the ship.<br><br> But the suspect running of the Australians was something which the West Indians had in their mind from the beginning. The agile Viv Richards was lurking within the circle and he sent back Turner with a direct hit.<br><br> Ian Chappell then committed the sin of running on a misfield and the hesitation allowed Richards to cover lost ground and his accurate throw allowed Lloyd to break the stumps before Chappell could reach home. Younger brother Greg was Richards' next victim and with 2 more run outs late in their innings Australia finished 17 runs short of their target.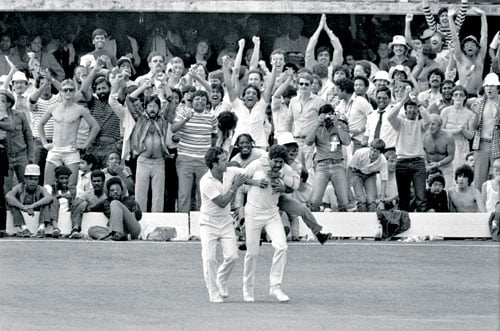 <b>1983 FINAL: Kapil Dev runs backwards to catch Richards and put India on the road to glory</b><br><br> After India had capitulated for a paltry 183 in the final, two-time defending champions West Indies with their list of attacking stroke-makers were the favourites to complete a hat-trick of World Cup titles. They lost Greenidge early but Viv Richards was keen on finishing the game.<br><br> Hitting 7 fours in his knock of 33, Richards' cavalier start had almost taken the steam out of India when he miscued a pull off Madan Lal. Kapil Dev ran more than 30 yards backwards to pouch it and send Richards back. It was the impetus India needed to press for an unlikely win which they finally pulled off.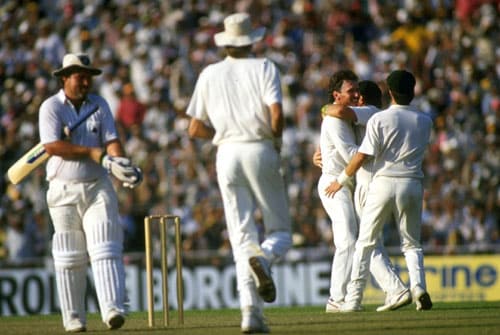 <b>1987 FINAL: The stroke that gave Australia the trophy</b><br><br> Chasing Australia's score of 253, England were coasting at 135/2 with skipper Gatting and Bill Athey at the crease. Gatting who had bowled himself trying to sweep in the semi-final against India decided to reverse sweep the first ball of Australian skipper Allan Border.<br><br> He miscued it and keeper Dyer completed an easy catch. Gatting went for 41 and that led to a slump which cost England the Cup by 7 runs eventually.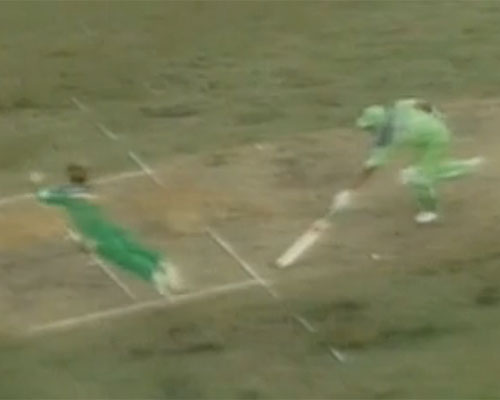 <b>1992: Airborne Jonty Rhodes gives new definition to fielding</b><br><br> South Africa were restricted to 211 but a rain intervention and the crazy rain rule had made the target very stiff for Pakistan. Inzamam-ul-Haq was the point man to do the job and he had set about doing it in spectacular fashion.<br><br> When on 48, Inzy ran for a quick leg-bye but was sent back from half-way down the pitch by a hesitant Imran. Suddenly Jonty Rhodes sprang up from a deep backward point position and started charging towards the wicket rather than throwing the ball.<br><br> A few milliseconds later, the Protean dynamite was airborne with both legs in the air, body parallel to the ground and he razed all three stumps. Inzamam was out but that was secondary.<br><br> It was a moment of sheer class...imagination juxtaposed with the spectacular and fielding in an instant had become an art from being just a cricketing chore.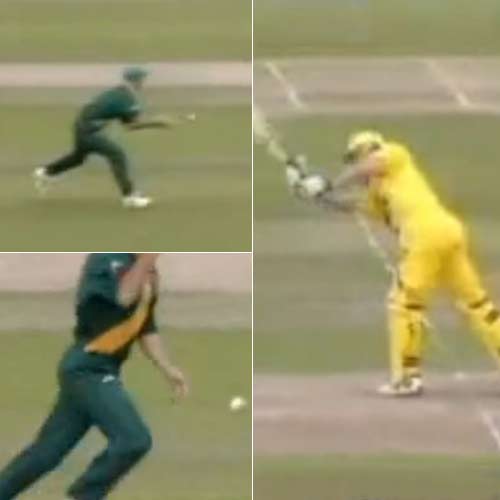 <b>1999: Gibbs drops Waugh, drops the Cup</b><br><br> South Africa batted first in this crucial Super Six match which Australia had to win at any cost to progress to the semis. Herschelle Gibbs scored a magnificent 101 to help the Proteas score 271.<br><br> The Aussies were in a crisis at 48/3, but Steve Waugh and Ricky Ponting went about doing the job of scoring quickly. At a personal score of 56, Waugh casually flicked Klusener in the air and the ball went straight in to the hands of a waiting Gibbs at mid-wicket.<br><br> But within seconds of pouching it, Gibbs lost the ball. Replays suggested that in his eagerness to celebrate, he dropped the ball. Waugh went on to score 120 to help the Aussies win. As a result Australia leapfrogged Proteas in the Super Six table and the ensuing semi-final tie sent the Aussies to the final which they won.